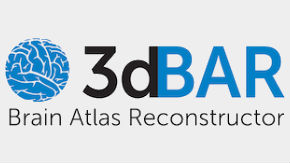 3d Brain Atlas Reconstructor on-line service is a repository of three dimensional reconstructions of brain structures. The interface is created on top of the 3D Brain Atlas Reconstructor software (http://3dbar.org) and offers a variety of functions for the hosted atlases:
Downloading models of brain structures in various quality presets as well as created using customized settings.
Previewing models using bitmap thumbnails or in interactive mode.
Enhancing your own tools using 3dBAR's functionalities.
---
Links:
References:
Piotr Majka, Ewa Kublik, Grzegorz Furga, Daniel K. Wójcik. 2012. Common Atlas Format and 3D Brain Atlas Reconstructor, the infrastructure for constructing 3D brain atlases. Neuroinformatics, 10:181-197 (doi:10.1007/s12021-011-9138-6)
Piotr Majka, Jakub Kowalski, Natalia Chlodzinska, Daniel K. Wójcik 2013 "3D Brain Atlas Reconstructor service – online repository of three-dimensional models of brain structures" Neuroinformatics 11:507-518 (doi:10.1007/s12021-013-9199-9)